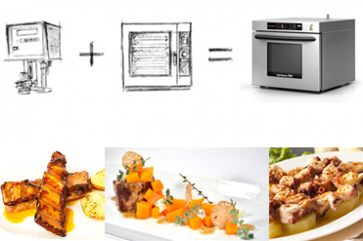 TekTherm Compact is a cooking chamber, developed collaboratively with the Roca brothers (Celler de Can Roca), which guarantees maximum precision at low temperatures thanks to a TSC patent, which ensures accuracy of ±0.2ºC. The exactness of the cooking temperature is especially important in low-temperature cooking in order to obtain moist, uniform results with little reductions.
This exactness in a cooking chamber, unique among ovens in the industry, is an essential advantage that the professional solution of TekTherm Compact introduces. But there's more, especially in the field of sous-vide cooking.

Sous vide cooking with MyChef
Get the same results as an immersion thermostat but with greater homogeneity with TSC technology (Thermal Stability Control). TSC is easy: forget about the inconvenience of using water.
Multiple applications
Do not be left alone with your sous-vide cooking.
Low temperature cooking with or without bag, steamer, pasteurisation, dehydration, fermentation, regeneration, holding... Low temperature cooking helps to maintain the organoleptic quality of food, offers new flavors, aromas and textures, extends the life of food, reduces the losses, prevents freezer burns, allows getting a standardized production, a faster service...
Avoid overcooking the food
Ensure the desired temperature at the centre of the product being cooked, making sure that temperature does not continue to rise due to the thermal inertia of the food. In this way, it is possible to keep food in the oven almost indefinitely without it overcooking.
With the union of the TSC and Predictive Cooking patents it is obtained a totally uniform cooked food both outside and inside.